looking to be apart of the ondrick team?
We are growing
Ted Ondrick Materials Group provides equal employment opportunities to all employees and applicants for employment and prohibits discrimination and harassment of any type without regard to race, color, religion, age, sex, national origin, disability status, genetics, protected veteran status, sexual orientation, gender identity, or expression, pr any other characteristic protected by federal, state, or local laws.
This policy applies to all terms and conditions of employment, including recruiting, hiring, placement, promotion, termination, layoff, recall, transfer, leaves of absence, compensation, and training.
You can fill out our application by clicking the button below and sending it to careers@ondrickmr.com or you can fill it out at our office at 22 Industry Road, Chicopee, MA. For current employment opportunities please see the below list.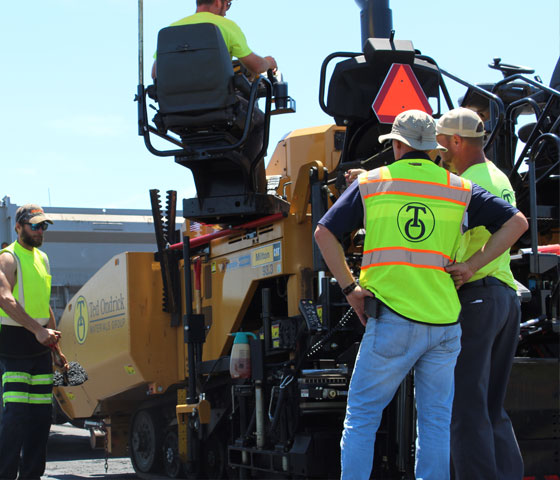 roller operators, paver operators, lute men, general laborers
We are a diversified, growing company providing full-service construction, paving, aggregate-based materials, and asphalt installation. We service all of western Massachusetts to central Connecticut.
Must have OWN transportation and be dependable.
Valid Drivers' license.
Must pass pre-Employment Drug Screen.
MA Hoisting License beneficial.
Essential Job Functions
Perform a variety of tasks involving strenuous manual labor on construction projects, perform manual work in preparing surfaces for paving.
Shovel HMA into construction area(s).
Fine grade to grade given by Foreman.
Assist in patching asphalt.
Maintain a clean job site. Pick up tools, equipment, and debris, secure the site each day to eliminate potential hazards.
Load and unload trucks.
Job Type: Full-time
Heavy Equipment Mechanic
O.M.R. owns and operates divisions in the aggregate, paving, and hardscape  industries. As the truck and heavy equipment mechanic, the successful candidate will have demonstrated skills in inspecting, maintaining, and repairing a fleet of company trucks, highway trucks and heavy equipment.
Qualifications
 High School diploma or GED
2 to 5 years' experience mechanically diagnosing, repairing, and maintaining various types of on highway trucks and heavy equipment
Good written and oral communication skills
Basic reading and writing skills
Basic computer skills/MS Office
Drivers' license required, must have a decent driving record. CDL A or B and MA Hoisting License preferred.
Must be able to pass a pre-employment drug screen
Essential Duties and Responsibilities
Inspect, diagnose, and repair brake systems, engines, electrical components, steering systems, transmissions, and tires.
Perform routine maintenance procedures and determines a course of action for damaged parts and systems.
Routinely use wielding torches, pneumatic wrenches, hydraulic jacks, screwdrivers, pliers, mallets, and precision gauges. 
Ensure parts conform to factory specifications by inspecting and verifying clearances and dimensions. 
Test drive trucks and equipment before and after repairs to ensure proper performance and compliance with manufacturers specifications.
Read and understand operating manuals, blueprints, and technical drawing.
Examine parts for excessive wear using micrometers and gauges. 
Accurately complete maintenance reports and other documents as needed.
Wear personal protection equipment in designated areas as stated by OSHA and MSHA.
Perform other duties assigned.
Job Type: Full time
Loader Operator
Qualifications:
Ability to operate various pieces of large equipment in accordance with company procedures and safety regulations and move material safely through the yard/quarry.
Ensure that loads are positioned and place securely.
Experience with layout, grading, and drainage.
Maintenance of front loader, dozer, and excavator: Perform the pre-operations check and other inspections/cleaning as prescribed. 
MA Hoisting license, MA Drivers' license DOT card.
Must have 2 years' experience minimum, be skilled with large loaders and excavators.
Reliable, with a strong work ethic.
Ability to pass pre-employment and random drug screens.
Essential Duties and Responsibilities:
Previous experience operating heavy equipment in a busy aggregate yard and quarry environment.
Experience with a  dozier in fine grading +/- .10ft by traditional control, set up GPS and calibrate GPS.
Experience with an excavator and able to strip sub-grade, pull pond slopes, cut and fill areas to +/- .10ft of required.
Must be able to operate equipment efficiently to maintain production goals in a timely manner with attention to detail. 
Ability to safely and productively load trucks.
Ability to exert up to 100 lbs. of force occasionally, and/or up to 40 lbs. of force regularly to move objects.
Abide by all local, state, and federal regulations, as well as all company safety procedures.
Keen attention to detail and situational awareness to maintain the safety of the work environment.
Ability to work overtime, nights, and weekends if needed.
DO YOU HAVE ANY QUESTIONS? 
FEEL FREE TO CONTACT US!
DO YOU HAVE ANY QUESTIONS? 
FEEL FREE TO CONTACT US!

As a business offspring of Ted Ondrick Materials Group, Ondrick Materials & Recycling brings the same quality service and dependability that customers have trusted for over 80 years.
Monday | 8:00AM - 4:30PM
Tuesday | 8:00AM - 4:30PM
Wednesday | 8:00AM - 4:30PM
Thursday | 8:00AM - 4:30PM
Friday | 8:00AM - 4:30PM
Saturday | CLOSED
Sunday | CLOSED
Ondrick Materials & Recycling
22 Industry Rd
Chicopee, MA 01020
Phone: (413) 592-2566
Fax: (413) 592-7451